Engine Maserati 450S 5700 cc.
The Tipo 59 and Tipo 62 engines were based on the 5-litre engine of the 450S and with its diplacement enlarged to 5,600cc (Tipo 59) and to 6,400cc (Tipo 62) this V-8 engines ware adapted for marine use to power KD 800 kg and KD 900 kg inboard racing boats. Maserati, with drivers Lino Spagnoli, Flavio, Giorgio Guidotti won three consecutive world titles from 1959 to 1961 in the 800 kg class and with Ermano Marchisio, Liborio Guidotti and Gian Luigi Crivelli won eight consecutive world titles from 1962 to 1969 in the 900 kg class.
Number of cylinders: V8, 90° - twin spark
Bore and stroke: 103.0 x 85.0 mm
Displacement: 5657 cc.
Power: 500 CV at 7000 RPM
Compression ratio: 10,6:1
Valves: 2 per cylinder
Valvetrain: over head cams
Fuel system: 4 double barrel carburetors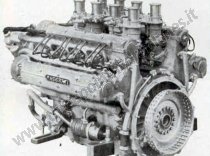 List of boats with MASERATI 450S 5700 CC. engine (7) :