San Marco #9 (1960)
Builder: San Marco
Year of build: 1960

On the same day conquered 'the World Record even the Count Franco Gilberti with a hull with Engine Alfa Romeo Giulietta Sprint Veloce 1300 cc. with the muzzle to sting. For the occasion, Rai around a 22.19 minute documentary called "One Hull for A Record", following the construction of the hull San Marco in 1300 with Motor Shipyard San Marco in Milan from the skeleton then in the' preparation and finally Sarnico for the Record. It was' screened on Christmas Day 1961 by Rai. Exists in the film library Teche - Rai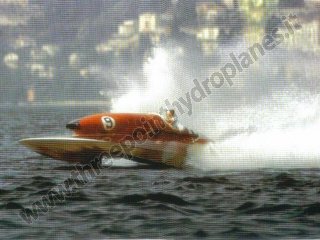 1st Pilot: Scarpa Oscar
Period: 1961
Race number: #9
Engine: Maserati 450S 5700 cc.
Class: KE 1200 KG.

Features of the hull to Record with multiplier Sarnico based on the measured 12.09.1961:
Length mt. 6.05 - Width mt. 2.74 - Weight Kg. 805
New World Record Class KE 1200 KG. in Km/h. 239.520 of the average over two steps. At the end of the second step in slowing the boat take-off 'and Scarpa Oscar made ​​a flight of about 100 mt. - The boat went 'destroyed but the pilot if the cord' with little physical damage.
Last updated on 08/29/2014
Today -> Destroyed
Gallery