Laura 3° - Timossi #1 (1954)
Builder: Timossi
Year of build: 1954

The fastest italian boat of all times.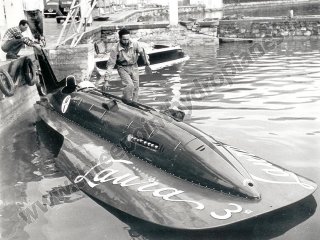 1st Pilot: Verga Mario
Period: 1954
Race number: #1
Name: Laura 3°
Engine: N.2 engines Alfa Romeo Tipo 159 1500 cc.
Class: Unlimited

Mario Verga had a fatal accident in Sarnico on 09.10.1954 while trying to establish the World Record speed over 300 km/h.
Last updated on 01/17/2014
Today -> Destroyed
Gallery