Alagi - Baglietto #121 (1937)
Builder: Baglietto
Year of build: 1937

Propeller unit is Cattaneo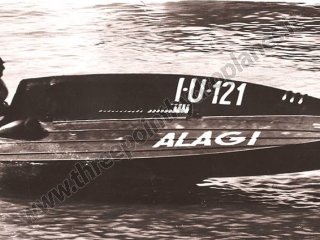 1st Pilot: Rossi di Montelera Theo
Period: 1937>1938
Race number: #121
Name: Alagi
Engine: Isotta Fraschini M12 12000 cc.
Class: 1200 KG.

Here photographed while trying to Win the World Speed ​​Record Class 1200 KG. - Average over two passes km/h. 146.532 - Arona 04.08.1937
Propeller: Company Radice 365 x 530 step
Tank: Capacity 180 liters of gasoline
Measurements of Hull: Length mt. 4.80 and Width mt. 2.35
Weight: 1000 KG.
Unlike the boats of the early 30's, the rudder is positioned at the stern.
Last updated on 02/20/2014
Today -> Destroyed
Videos
Alagi - Baglietto #121 (1937)

Rossi di Montelera Theo n° 261 - Alagi - Class 1200 KG International - 1° Place "Gold Cup" World Championship - Detroit U.S.A. - Giornale Luce B1378 del 21.09.1938
Gallery